About Us -

General Information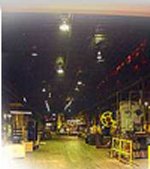 Niles Mfg. & Finishing located in Niles, Ohio provides a full range of high technology paint coating services to tier 1 and tier 2 automotive, heavy truck, trailer, rail transportation, construction equipment and other industrial markets.
The products we use protect against environmental elements while providing a quality appearance. The lead free HAPS free epoxy paint employed on our overhead conveyor and programmable hoist electrocoat (E-coat) lines provide corrosion protection and scratch resistance while imparting a high quality cosmetic appearance to both small and large parts. Our programmable hoist line provides this same high quality finish to parts up to 24 ft. in length. Our new Powder Coat line employs Acrylic, Epoxy, TGIC Polyester, Urethane and Hybrid paints which are available in a wide pallet of colors and textures. Our Oven Cured Liquid Top Coat line also covers with a wide variety of colors and textures that meet or exceed most OEM specifications.

Niles Mfg. & Finishing processes raw materials to a finished product, packaged, ready to ship. We also offer the value added capabilities of small metal stamping, robotic welding, shop fabrication, custom packaging, warehousing, and shipping to our clientele's specifications.

Our 140,000 square foot RoHS state of the art facility has ample Mfg. and warehousing capabilities for any size part, product or project. Niles Mfg. & Finishing's commitment to energy conservation helps in keeping our operating costs low, yet, continues to service our customers efficiently and effectively. We've accomplished this by investing in new technology and state-of-the-art equipment that utilizes less energy and operates more efficiently. Our dedicated and knowledgeable staff is always prepared to discuss your projects, suggest solutions and process your materials in a timely fashion. Through teamwork, we strive to efficiently and effectively exceed our customer's expectations!

We invite you to look around our website and learn about our products and finishes and see how we can help you with your finishing needs with quality and professionalism.